Leveraging the power of Viral marketing: GREGG SPIRIDELLIS, JIBJAB CEO
Thursday, July 30th, 2009
Online startups regularly leverage viral marketing strategies to catapult their business to the forefront of their industries. Businesses that harness online word of mouth, video platforms (YouTube), mobile applications, and social networks (Facebook) are able to develop and energize their customers at a fraction of the cost of non-viral approaches.
Get it right
. . . and millions of customers will flock to your website.

Ignore it
. . . and risk being leapfrogged by your competition.
Join the Wharton Club on Thursday, July 30th when we present JibJab CEO and Wharton Alumnus Gregg Spiridellis when he will discuss how his company used viral marketing to help launch their brand and how they are building on that initial viral success.
Register Online
Date:
Thursday, July 30, 2009
Time:
6:00-6:30pm Reception, Check-in. 6:30-8pm, Event
Location:
Morgan Lewis,
One Market, Spear Street Tower, San Francisco, CA
Cost:
WCNC members, members of affiliate clubs and their accompanied guests: $20 per person. Non-member alumni and other guests: $40 per person.
Registrations after 3:00pm Wednesday, July 29th an extra $10 per ticket, if available.
Cancellations after 4:00pm Tuesday, July 28h at the discretion of the WCNC.
Gregg Spiridellis
CEO, JibJab Media Inc.
Back in ancient times, 1998 to be exact, two brothers bore witness to an animated dancing doodie streaming over a 56K modem and it changed their lives forever. What Evan and Gregg Spiridellis saw in their browser was more than a dancing piece of dung; it was a once-in-a-lifetime opportunity to be pioneers in a brave new world of entertainment.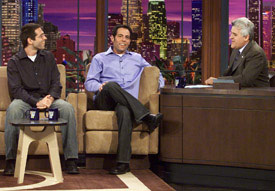 Since their days in a Brooklyn garage, Evan and Gregg Spiridellis have grown JibJab into a nationally recognized brand by maintaining their obsession on only serving the highest quality laughs to their audience. Thanks to that obsession, and the support of JibJab fans everywhere, the company has grown from 2 brothers to a 35-person company comprised today of the best and the brightest artists, technologists and business people working hard--
really
hard--to change the way entertainment is created, produced and distributed.
Evan and Gregg believe that what is happening right now is nothing short of the media revolution they first dreamed about in their Brooklyn garage, and no matter how big JibJab becomes, they will never forget that it all started with a dancing doodie.