WCNC SF Giants Event: How to Become a Major League Executive: A Tale of Two Baseball VPs
Back by popular demand! Join us for a very special WCNC members-only "Wharton Club Day at AT&T Park" on
Sunday, July 20th
! The day's activities will be jam-packed and features (1) a Chalk Talk session:
"How to Become a Major League Executive: A Tale of Two Baseball VPs"
; (2) a
Giants sports memorabilia raffle for charity
(featuring autographed memorabilia from former SF and Milwaukee Braves greats
Barry Bonds
and
Hank Aaron
!); (3) a picnic-style
lunch
; and of course, (4) the
game
!
Register online
Chalk Talk
The action starts with an exclusive
Chalk Talk session
that features
TWO Vice Presidents of Baseball
. Wharton alumnus Bill Schlough, Senior Vice President and CIO of the San Francisco Giants will be joined by John Winborn, Vice President of Technology and Information Systems of the Milwaukee Brewers. Both Bill and John will share their own unique experiences of working in baseball and how they have seen technology grow to be more a part of the baseball viewer's experience! The format will be interactive, with ample opportunity for Q&A . . . bring your questions and ask away!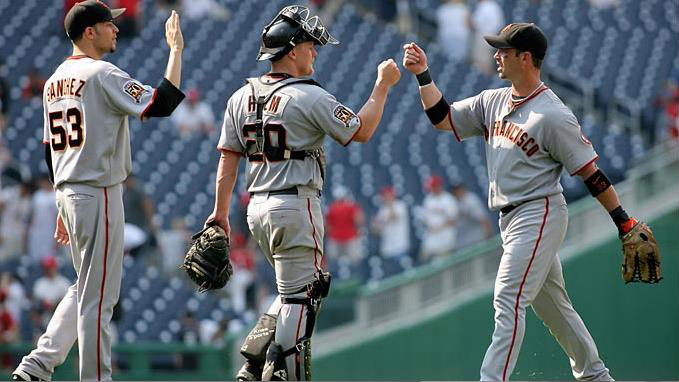 A Very Special Giants Community Fund "Home Run Kings" Raffle !
To help benefit our local community, the Club will again have a sports memorabilia raffle. This was a great success last year, and all proceeds of the raffle go to the Giants Community Fund, an organization that uses baseball as a forum to encourage youngsters and families to live healthy, productive lives. Through the kindness of the Giants and Brewers organizations, our raffle will this year include autographed memorabilia from
Barry Bonds
and
Hank Aaron
! Buy as many raffle tickets as you can to support the Giants Community Fund and have your chance to own a piece of baseball history!
Picnic-style Lunch
Immediately following the talk, we will host a
picnic-style lunch
after which we will adjourn to our seats to watch the
SF Giants vs. the Milwaukee Brewers game
. The weather is great for baseball during this time of the year, and this is a special opportunity to learn more about sports management from TWO MLB VPs and enjoy a game while meeting and getting to know other Wharton alumni who live in the area.
We anticipate high demand for this event and expect it to sell out quickly. If you would like to reserve a seat for you and your guest, please do so as soon as possible!
Note to families: AT&T Park is very kid-friendly with slides in the Coke Bottle and a mini-ballpark in leftfield where youngsters can play whiffle ball throughout the game.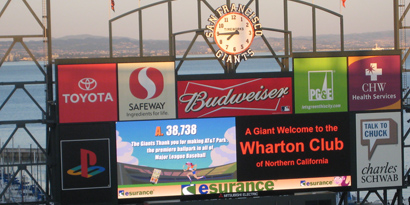 Register online
Purchase tickets
for Giants Community Fund
"Home Run Kings" Raffle
!
Date:
Sunday, July 20, 2008 @9:30am
Location:
AT&T Park, Giants Executive Offices (in between Acme Chophouse and Dugout Store) 24 Willie Mays Plaza, San Francisco, CA 94107
Event fee:
$40 per person for current WCNC members. Members-only for this event. Members may purchase up to one additional ticket for an accompanied adult at the member rate. Members may also purchase up to two additional tickets for their children, who must be accompanied by a parent. Note: these children's tickets are not transferrable to an adult--they are intended only for Club members who would like to bring their 1-2 of their children. Up to 30 tickets have been set aside for accompanied children, but all 120 of our tickets will be sold on a first-come, first-served basis.
We do expect this event to sell out quickly, so buy your tickets early if you would like to attend. Extra $10 for tickets after July 3rd, if available. All sales final (and you always have the option to have another person attend in your place once a ticket has been purchased.)
Schedule:9:30am-9:45am
Check-in
10:00am-11:30am
Chalk Talk & Charity Raffle
11:45am-1:00pm
Lunch
1:05pm
First Pitch!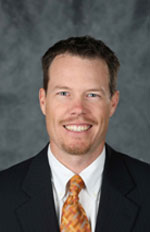 Bill Schlough
Senior Vice President and Chief Information Officer
San Francisco Giants
Bill Schlough oversees a team of dedicated professionals that provide day-to-day technical support while working with internal clients to set the technological direction for the organization. Since he joined the team in 1999, the Giants have demonstrated a sustained commitment to enhancing the fan experience through innovations such as the "Double Play Ticket Window," "Ticket Relay," the "Digital Dugout," customer-facing contactless payment systems, universal gift card, HDTV and the first 100-percent wireless facility in professional sports. Most recently, Schlough and his team directed the implementation of AT&T Park's Diamond Vision display and Hi-Definition video production facility.
A member of the Bay Area Sports Organizing Committee (BASOC) Board, Schlough served as a technology lead for San Francisco's bids to host the 2012 and 2016 Olympics. His event experience includes assignments at the 1994 World Cup along with Olympic Games in Atlanta, Salt Lake and Torino, Italy. Previously, he worked as a consultant with Booz-Allen Hamilton and Electronic Data Systems, supporting a diverse collection of clients including AMD, Northrop Grumman and General Motors.
A San Francisco native, Schlough holds a Mechanical Engineering degree from Duke University and an MBA from the Wharton School. He and his wife, Erin, reside in Redwood City.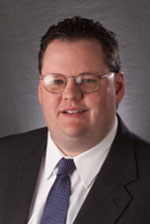 John Winborn
Vice President of Technology & Information Systems
Milwaukee Brewers
John Winborn, 37, is in his second season with the Brewers after joining the organization on October 15, 2006. As Vice President of Technology & Information Systems, Winborn is responsible for all technical operations for the Milwaukee Brewers and Miller Park. Winborn joined the Brewers after spending seven seasons as Director of MIS for the San Francisco Giants.
Winborn began his sports career with his management of guest services for the 1994 World Cup held at the Cotton Bowl. Winborn was Assistant Venue Manager at the Atlanta Olympic Games in 1996 and a Venue Technology Assistant at the 2004 Olympics in Athens.
Winborn was a volunteer at the Astrodome for the Hurricane Katrina relief effort in 2005 and a member of the Host Committee for the 2003-2005 NCAA Football Emerald Bowls.
Winborn and his wife, Cara, reside in Elm Grove, Wisconsin.