You know Web 2.0 has gone mainstream business when 75% of the 2623 executives worldwide surveyed by McKinsey in 2007 thought Web 2.0 was "strategic" and were actively planning to continue or increase Web 2.0 investments. So, whether you're in the Fortune 500 or the Fortune 50Million, or a consultant, investor or recent grad you need to know more about Web 2.0 strategy right now. Even if you're a casual user of Google, Wikipedia, Amazon and not sure if you should respond to invitations to LinkedIn, Facebook, Flickr or YouTube— you owe it to yourself to find out how you and your business can benefit from the millions of active users online that are powering up the Web 2.0 economy. Here's your chance to have Web 2.0 Strategy Explained in business and financial terms.
Join former Wharton and Haas b-school professor, book author and internationally recognized authority Amy Shuen on Tuesday, May 27th for an Executive Briefing on Web 2.0 Strategy.
Register now! The first 15 registrants will receive a free autographed copy of Amy's record-setting new book, "Web 2.0: A Strategy Guide"—selling out 500 copies in the first days of the Web 2.0 Expo in SF where it was introduced with rave reviews from Web 2.0 gurus Tim O'Reilly and John Battelle.
The book is described as "astonishingly useful", "rethinking strategy in a highly networked world", fascinating read for Wall Street analysts and investors, "unlocked the mystery of how the Web is generating massively valuable business opportunities", "explains in plain language the business implications of the new Web". (Advance reviews by well-known HBS, Haas professors and analysts)
At this interactive and high energy "back to b-school" book presentation and Web 2.0 strategy case and best practice discussion, you'll get a cram course in analyzing Web 2.0 network effects, collective user value and social media business models. You'll take-away "Five Steps to Web 2.0 Strategy" and a "Web 2.0 Strategy ScoreCard" for applying exponential thinking and best practices to your own business, ventures, investments, customers and partners.
Register Online
Date: Tuesday May 27, 2008
Time: 6:00pm-7:00pm Networking Reception & Registration. 7:00pm-8:15pm Program, Q&A.
Location: DLA Piper, 2000 University Ave, Palo Alto, CA
Registration: WCNC members, Wharton summer interns, members of affiliate clubs, and their accompanied guests: $20 per person. Non-member alumni and other guests: $40 per person. If available, $10 additional for tickets purchased after 6:00pm, Monday, May 26. The WCNC's standard cancellation policy applies for this event.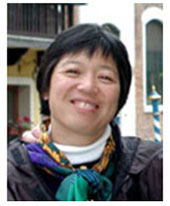 Amy Shuen
Professor of Management Practice
China Europe International Business School (CEIBS)
Former Professor, Wharton School of Business, University of Pennsylvania
Former Professor, Haas School of Business, University of California at Berkeley
Amy Shuen is an internationally recognized authority of Silicon Valley business models and innovation economics, a frequent speaker at industry conferences and venture capital events and an award-winning strategy researcher. Combining a Yale EEE (Electronics Engineering and English Lit), Harvard MBA and Berkeley doctorate in Business/Economics with 20 years of consulting, corporate venture and high tech industry experience, Amy's taught high-tech entrepreneurship, strategy and venture finance to MBAs, technical professionals and executives at Wharton, Berkeley, SJSU, Chalmers, St.Gallen, INSEAD, L'Ecole des Ponts and Ecole Polytechnique. Amy is a professor at the top Chinese business school, the China Europe International Business School (CEIBS) and commutes to Shanghai from the Bay Area and Seattle.