With financial markets roiling from the sub-prime melt-down and oil prices soaring to gravity defying levels, is this election year going to be the year of the recession? "The Facts Say No" says one expert. Other perspectives include "Bet the House on It," "Not if Exports Save Us," "Nobody Knows," and -- last but not least -- "Wait Till Next Year."
On January 30, the Federal Reserve will announce its latest position on interest rates, with many analysts expecting a 50 basis points rate cut. Shortly after this announcement, the Wharton Club of Northern California will host Glenn Rudebusch, Senior Vice President and Associate Director at the Federal Reserve Bank of San Francisco.
Register Online
Date: Tuesday, February 5, 2008
Time: 6:00-6:30pm Networking Reception - light dinner. 6:30-7:45pm Talk, Q&A, Networking.
Location: Wharton West, 101 Howard St, 5th Floor, San Francisco
Registration: WCNC Members, members of affiliate clubs, and their accompanied guests: $20 per person. Non-member alumni and other guests: $40 per person. If available, $10 additional for tickets purchased after 6:00pm Sunday, February 3. The WCNC's standard cancellation policy applies for this event.
During this WCNC exclusive session, Mr. Rudebusch will share insights on:
Macro and micro-economic conditions across the US, the globe, and the bay area

Key trends across major economic indicators including interest rates, GDP growth, and unemployment

The outlook for the credit markets and the role the Federal Reserve can and should play in rescuing the markets

Forecast for the bay area's economy across key sectors including technology, real estate, biotech, and finance

How the Federal Reserve has changed under Chairman Bernanke and its future direction after elections this year.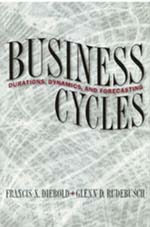 Glenn Rudebusch
Glenn Rudebusch is Senior Vice President and Associate Director at the Federal Reserve Bank of San Francisco. He joined the San Francisco Fed in 1994 as a Research Officer after serving as Senior Economist at the Federal Reserve Board in Washington D.C. He joined the Federal Reserve in 1986 after graduating from Northwestern University (B.A., 1981) and the University of Pennsylvania (M.A., 1983; Ph.D., 1986). At the San Francisco Fed, he helps oversee all aspects of the Research Department, with a particular focus on issues related to the research and analysis of the U.S. economy and monetary policy. Mr. Rudebusch is the author of many publications on the conduct of monetary policy, the behavior of interest rates, and the dynamics of business cycles. His most recent book is "Business Cycles: Durations, Dynamics, and Forecasting", published by Princeton University Press.