How are cars built? Are cars even manufactured in the SF Bay Area? What does world class manufacturing look like up close? What is Lean Manufacturing?
Toyota--which has recently taken over GM as the largest vehicle manufacturer in the world--builds cars and trucks in Fremont in a long-standing joint venture with rival GM. The NUMMI plant churns out a stunning 400,000 vehicles a year, including the Toyota Tacoma, the Toyota Corolla and the Pontiac Vibe. They are stamped, assembled, painted, and tested in the same facility in Fremont.
The NUMMI Tour begins with a video describing the origins of the historic joint venture between GM and Toyota, highlighting NUMMI's manufacturing processes and explaining the basic concepts of the famous Toyota Production System. A tram ride will take us through the Stamping, Body and Weld, and Assembly areas of the plant. The plant spans the equivalent of 88 football fields and uses 496 robots.
Register onlineDate:
Wednesday, August 29, 2007
Time:
12:15pm. Plan on being there no later than 12:15 and allow extra time for traffic or taking a wrong turn. If you miss the start of the tour, you will have missed the tour!
Location:
Fremont, NUMMI plant, see directions below
Registration:
$20 per person for WCNC Members, Wharton summer interns, members of affiliate clubs, and their accompanied guests. $10 per member-accompanied child 10 years or older. $40 per person for non-member alumni and other guests. $10 additional for tickets purchased after 4:00pm Friday August 24th. The WCNC's standard cancellation policy applies for this event.
Please note:
we have a
limited number of slots
for this tour--we do expect it to sell out, so first come, first served!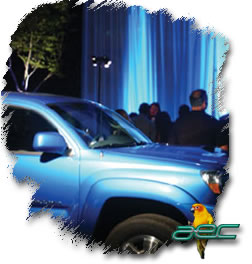 Location & Directions
New United Motor Manufacturing, Inc. 45500 Fremont Boulevard, Fremont, CA 94538
* Stop at the main gate. The guard will direct you to the Tour Center.
* There is visitor parking directly in front of the Tour Center.
* Please allow sufficient time. If you arrive late, you may miss the tour.
* Cameras and camera phones are not permitted inside. Please leave them in your vehicle.
* Visitors must be at least 10 years old.
* Visitors are asked to wear closed-toe shoes and heels less than two inches.
About NUMMI
New United Motor Manufacturing, Inc. is an automobile manufacturing plant in Fremont, California. The factory was an old General Motors plant and is now a joint venture between GM and Toyota. When it reopened for production in 1984, it was the first automotive joint venture plant in the United States. GM saw this joint venture as an opportunity to learn about Lean Manufacturing from the Japanese company, while Toyota gained its first manufacturing base in North America and a chance to implement its production system in an American labor environment.
NUMMI is now an award-winning facility which ranks with other Toyota plants among the most productive manufacturing operations in North America. GM places about 12 managers each year at the plant to learn lean techniques and has improved quality enough across the rest of its operations for it to show through on J.D. Power quality rankings.