Have you ever used Google, Yahoo, Amazon, or Tivo? Of course you have, and this means you have already experienced using open source software.
Led by innovators such as Marc Andreesen and Linus Torvalds, open source has become a formidable counter to monopolistic software practices of the past. It has fundamentally shifted the economics of research and development, sales, and marketing, and it is forcing companies to compete on new terms. Venture capitalists have invested significantly in this space over the past decade with some successful exits and a few notable failures.
During this compelling discussion, Dave Rosenberg, CEO of
MuleSource
, a leading venture-backed open source software company, will provide a first-hand view of the open source industry. Dave will address such topics as:
• How has the open source business evolved over the past decade?
• How do open source companies compare to traditional software companies in terms of growth and profitability?
• What business models will win in the future?
• How hot is open source on Sand Hill Road?
• Advice for entrepreneurs starting an open source business: sharpening your concept, building the dream team, and securing a great term sheet!
Register online
Date:
Wednesday, July 25
5:30-6:30 pm. Networking Reception, light dinner
6:30pm-7:45 pm. Talk, Q&A
Location: Wharton West, 101 Howard Street, Suite 500, San Francisco, CA 94105

Registration:
WCNC Members, Wharton summer interns, members of affiliate clubs, and their accompanied guests: $20 per person.
Non-member alumni and other guests: $40 per person.
If available, $10 additional for tickets purchased after 6:00pm Monday, July 23rd. Cancellations received after 6:00pm Monday, July 23rd are at the discretion of the WCNC.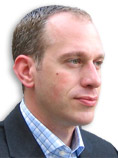 Dave Rosenberg, CEO and Co-founder, MuleSource
Prior to founding MuleSource--a Hummer Winblad, Morgenthaler Ventures and Lightspeed Ventures backed company--Dave Rosenberg served as Chief Information Officer for Glass Lewis & Co., a leading investment research and proxy advisory firm. Rosenberg also served as Principal Analyst for the Open Source Development Labs (OSDL), a global consortium dedicated to accelerating the adoption of Linux.
Previously, Rosenberg was Programs Director for LinuxWorld and Comdex and held technology and marketing positions at Sprint, OmniSky and NorthPoint Communications. At OmniSky his work on wireless provisioning systems was awarded a U.S. Patent. He contributes regularly to leading industry and business publications, including BusinessWeek, InfoWorld, ComputerWorld, CNET, ZDNet, Release 1.0, Slashdot and IBM DeveloperWorks. He co-authors Open Sources, the most widely-read open source related blog.
Rosenberg holds a BA from Rutgers University and an MBA from Pepperdine University.