You've heard the buzzwords. Software as a Service, On Demand, Subscription-based Software. Joe Ruck, President and CEO of Boardvantage, will share his rich, first hand operating experience of running a SaaS company.

The WCNC would like to thank Carr & Ferrell LLP , our hosts for this event!
The software industry is undergoing a seismic transformation from its traditional client-server, upfront licensing approach to a web based, annuity subscription model, dubbed SaaS.
During this insight laden interactive discussion, Joe Ruck, President and CEO of
Boardvantage
, a leading Silicon Valley SaaS company, will discuss big-picture trends and opportunities in the rapidly evolving SaaS marketplace. Joe has previously led several high-technology companies through successful growth to IPO or acquisition.
In an exclusive chat with the Wharton Club, Joe will address key questions such as:
- What has the adoption rate for SaaS been to date, and how bright is the future for this marketplace?
- How well do traditional sales and marketing strategies aply to SaaS companies?
- How are companies with traditional licensing models responding to these changes, if at all?
- How bullish are VCs on investing in SaaS companies? How does the IPO or M&A market look from an exit standpoint?
- Advice for budding entrepreneurs looking to start a SaaS venture.
Register online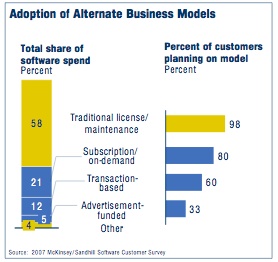 Date:
Thursday June 28
Time:
6:00- 7:00 Networking Reception
7:00- 8:00- Keynote Presentation and Q&A
8:00-8:30- Networking
Registration: $20 per person for WCNC Members and members of affiliate clubs. $40 per person for non-member alumni. You may invite guests by purchasing additional tickets. $10 additional for tickets purchased after 4:00pm 6/26/2007, if available. Cancellations received after 4:00pm, Monday, June 28th are at the discretion of the WCNC.
Location: Carr & Ferrell, 2200 Geng Rd., Palo Alto 94303.

Joe Ruck
Joe is President and CEO of BoardVantage. He has led many high-technology companies through successful growth to IPO or acquisition. Prior to joining BoardVantage, Joe was senior vice president of marketing at Interwoven and part of the team that drove the company through one of the most successful IPOs of 1999. Previously, he held sales, marketing, and executive positions at Sun Microsystems, Network Appliance, and Genesys Telecommunications, subsequently acquired by Alcatel. Joe holds a BS in engineering from Oregon State University and an MBA from Santa Clara University.