Wharton Club Day at AT&T Park: 'Behind the Pixels' / SF Giants vs Philadelphia Phillies
* * * 12:30pm, Friday, May 4th. The last tickets have just been sold, but please check on the link below to see if more tickets have become available. Since there could be further cancellations over the next day, if you would like to attend, please sign up on the wait list (if no tickets are available) and leave a cell number where you can be reached -- Click here to register or sign up on the wait list * * *
Special WCNC Members-only event, including (1) a closed-ballpark tour; (2) Chalk Talk session by Giants CIO, Bill Schlough; (3) a picnic-style dinner; and (4) the Giants vs. the Phillies!
Behind the Pixels: The Making of the Giants' New HD Diamond Vision Display
The action starts with an exclusive closed-ballpark tour and then continues with a Chalk Talk session by Wharton alumnus Bill Schlough, Vice President and CIO of the San Francisco Giants! Bill will talk with us about the making--and decision-making!--behind the Giants' new High Definition Diamond Vision Display! The format will be interactive, with ample opportunity for Q&A . . . so please bring your questions and ask away!

Immediately following the talk we will host a picnic-style lunch after which we will adjourn together to our seats to watch the SF Giants vs. the Philadelphia Phillies game. The weather is great for baseball during this time of the year, and this is a special opportunity to get an insider's tour of AT&T Park and enjoy a game while meeting and getting to know other Wharton alumni who live in the area.

We anticipate high demand for this event and expect it to sell out quickly. If you would like to reserve a seat for you and your guests, please do so as soon as possible!

Note to families: AT&T Park is very kid-friendly with slides in the Coke Bottle and a mini-ballpark in leftfield where youngsters can play whiffle ball throughout the game.

Register online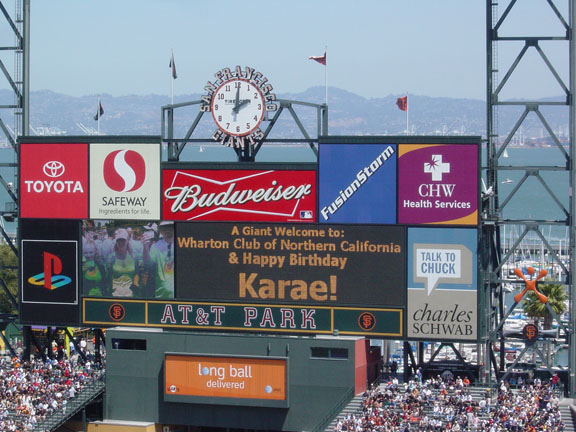 Date: 2:0pm, Sunday, May 6, 2007

Location: AT&T Park, Giants Executive Offices (in between Acme Chophouse and Dugout Store)
24 Willie Mays Plaza, San Francisco, CA 94107

Event fee: $40 per person for current WCNC members. Members-only for this event. Members may purchase up to one additional ticket for an accompanied guest at the member rate.
Extra $10 for tickets after April 22nd, if available. All sales final (and you always have the option to have another person attend in your place once a ticket has been purchased.)

Day at AT&T Park Schedule
2:00pm - 2:30pm Closed Ballpark Tour
2:30pm - 3:45pm Chalk Talk with Bill Schlough, WG98 and VP & CIO, San Francisco Giants
3:45pm - 5:00pm Lunch/Picnic
5:05pm First Pitch

How much of a good time are we talking about for the game on May 6th? Check out the after-event feedback below from attendees of last year's sold-out event:
Very unique experience. I wouldn't have gone if it were just to see a ballgame, but the addition of special behind-the-scenes discussions made it much more appealing. Thanks for setting up! (WG04 alumna
Best event this year. The two different perspectives from Bill and Walter provided a perfect complement. Really great work scheduling the Giants to win, BTW! (WG79 alumnus)
Solid speakers who were prepared and had fun with the talk. Good size and nice blend of a fun activity with substance. The hotdogs were outstanding as well. (WG00 alumnus)
Our family had a blast. It was wonderful to have the behind-the-scenes tour and learn a bit about the Giants, technology and baseball. Even our grade school children were engaged the entire time. (WG91 alumna)
It was a great day all the way around...all aspects of it were really terrific. (WG80 alumna)
Excellent event! Should be a yearly tradition! (WG04 alumnus)
This was a wonderful event and one that my two daughters enjoyed very much. We would definitely attend next year. (WG78 alumnus)
Most enjoyable: The chalk talk. Bill and Walter's experiences were fascinating, exciting and thoroughly entertaining. (Wharton summer intern)
Great event. Speakers were engaging and I got the impression that we were getting insight/information not generally available to the public. Lunch was convenient and we didn't have to spend a fortune on food at the park. (Wharton guest)
Very nicely planned! It was the best organized baseball game event I have been to for a large group. Well organized and informative with the pre-game talk and two talks by Wharton alumni. The picnic was a good idea and allowed people a chance to meet and see new friends. (Wharton guest)
We'd ADORE to come again - hope it becomes an annual event! It was the most fun event and game and comraderie I remember for a long time - and my son had a great time too - an added bonus for me. Both Bill and Walter were outstanding speakers - couldn't have found any better - the weather was the most perfect I remember ever enjoying in the ballpark, and what a game you pulled off! You clearly have the right link to the gods - are they Wharton grads? Best Wharton event I remember - and there have been some great ones. SO many thanks from us all! (WG75 alumnua)

Bill Schlough, VP and CIO, San Francisco Giants
As Chief Information Officer, Bill Schlough is responsible for setting the technological direction for the San Francisco Giants. He joined the team in 1999, initially overseeing the on-time, on-budget construction of Pacific Bell Park's information technology infrastructure. Under his guidance, the Giants have demonstrated a sustained commitment to creatively leveraging technology to enhance the fan experience through innovations such as the "Double Play Ticket Window," "Ticket Relay," the "Digital Dugout," high definition TV, and the first 100% wireless facility in professional sports. Bill directs a team of dedicated professionals that provide day-to-day technical support while working with internal clients to develop, implement and support innovative IT solutions that enable the attainment of the Giants' strategic objectives.

A proven leader with diverse experiences in technology spanning various industries, before joining the Giants, Bill worked as a management consultant with Booz-Allen & Hamilton's Information Technology Group and spent four years as a technology consultant for Electronic Data Systems (EDS), supporting a wide collection of clients including AMD, Northrop Grumman and General Motors.

Bill's first experience in sports came at the World Cup in 1994, where he served as venue technology manager at Stanford Stadium. He subsequently developed a start-up technology plan for Major League Soccer's San Jose Clash (now the Houston Dynamo) prior to their inaugural season. An Olympic enthusiast, Schlough worked with the Atlanta and Salt Lake organizing committees and recently completed a three-month engagement in Torino, Italy where he managed IT operations at the Palasport Olimpico hockey venue. He also led the Bay Area Sports Organizing Committee's (BASOC) Technology Theme Team in San Francisco's bid to host the Olympic Games. Bill holds a B.S. degree in Mechanical Engineering from Duke University and an MBA from the Wharton School.