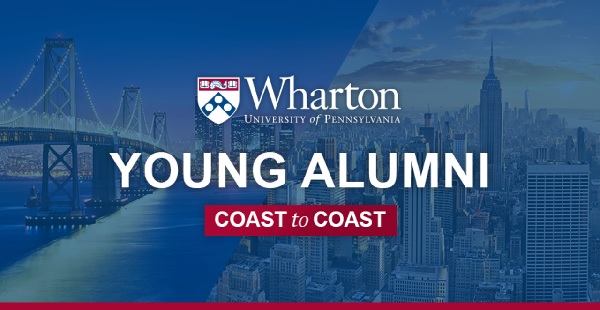 Coast to Coast Young Alumni event hosted by Wharton Global Alumni Relations
Wharton Young Alumni Coast to Coast events offer opportunities to informally meet recent Wharton graduates in your area — and network with fellow Quakers. Current second-year MBA students, in addition to Recent MBA and Exec MBA Grads 2016-2020, will also be invited. Interested alumni outside these years are also welcome to register.
Please join us on Zoom for an hour-long event highlighting alumni resources for recent MBA graduates, your local alumni club, and insider tips for your city. This event will allow you to build meaningful connections, ask questions, share stories, gain key insights that inform job searches, and learn more about the power of the Wharton alumni network.
The format of the event will consist of brief opening remarks by Shannon Connelly, Executive Director, Alumni Relations, followed by three rounds of three different breakout rooms (15 minutes each). Every attendee will get to visit each breakout room. After the breakout rooms, we'll bring everyone back together for closing remarks. The three breakout rooms will be:
1. Young Alumni Resources – Hosted by Cristina Diaczuk, Associate Director, Student & Young Alumni Programs
2. Wharton Club of Southern California – Hosted by a club leader. The club leader will give an overview of the club, highlighting upcoming events, benefits for recent grads, how to get involved, etc., and answer questions.
3. Insider tips for SoCal – Hosted by a club leader. WGA will prepare a series of "ice breaker" prompts that will encourage sharing (e.g., favorite restaurant, life hack for living/working in SoCal). The club leader will be responsible for facilitating the sharing and making sure this room is the most fun!
Register Here
When:
Thursday,
March 4, 20121
Time:
5:30-6:30pm PST

Cost:
Members $0, Non-Members $0