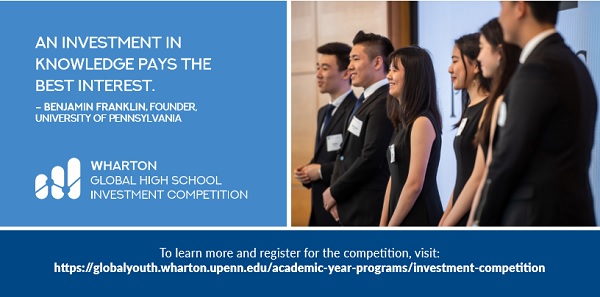 WHARTON GLOBAL HIGH SCHOOL INVESTMENT COMPETITION
The Wharton Global High School Investment Competition is a free, English-based, online investment simulation and group project for high school students and teachers. Participants compete with other students from around the world and learn about finance, teamwork, strategy building, and communication.
Over the course of 10 weeks, teams are responsible for managing portfolios of $100,000 in virtual cash using Wharton Investment Simulator (WInS), and developing unique team investment strategies. Winners are selected on the strength, creativity, and articulation of their strategies and competition experiences, not on the growth of their portfolios. Teams must have an educator serve as an Advisor. Top teams are invited to present their strategies to a panel of expert judges at one of the virtual Regional Finals. The top teams from the Regional Finals move on to the Global Finale held in Philadelphia, in May 2021.
Do you know a student, educator, or high school that would be interested in participating? Registration is open until September 18. Important details, dates, as well as helpful resources and tools can be found here: Wharton Global Investment Competition.
Please email Kara Dunn (
karadunn@wharton.upenn.edu
) with any questions about the competition.