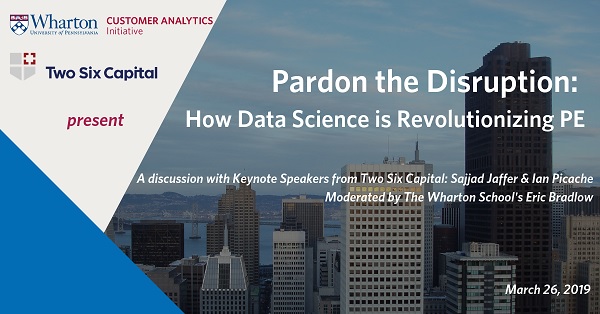 Pardon the Disruption: How Data Science is Revolutionizing Private Equity
Experts discuss the various ways analytics is being applied within private equity — from deal sourcing and due diligence to value creation and even exit timing – all in the name of managing risk and optimizing performance. Beyond highlighting how analytics is changing PE's prevailing investment model, this event will explore considerations for sponsors seeking to implement a more robust data program, while highlighting past learnings and case studies.
EVENT DETAILS
Eric Bradlow, Chair of Wharton's Marketing Department, Co-Founder and Co-Faculty Director of the Wharton Customer Analytics Initiative at the Wharton School will moderate the event and provide a briefing on the state of Analytics at the Wharton School. Keynote speakers Ian Picache and Sajjad Jaffer, Two Six Capital Co-Founders, will highlight approaches being deployed by private equity firms. Lastly, a panel discussion with leading industry speakers will showcase proven applications of data analytics for industry leaders and investors, alike. Practitioners, from both the investment community and companies utilizing data analytics, will be on hand to network. The event includes hors d'oeuvres and drinks.
AGENDA
5:00 PM: Check-In & Networking Reception
6:00 PM: Welcome & Introductions
6:15 PM: Keynote Address: Data Science Powered Investing
6:35 PM: Private Equity Panel Discussion
7:20 PM: Closing Remarks
7:30 PM: Networking
Register Online
Tuesday, March 26, 2019 | 5:00pm - 8:00pm
Wharton San Francisco,
2 Harrison Street
, Sixth Floor, San Francisco, CA 94105
Penn Alumni & Penn Student: $25.00 (
discount code for $5 off is WCNC5
).
Non-Alumni/Non-Students: $35.00

About Wharton Customer Analytics Initiative
The Wharton Customer Analytics Initiative (WCAI) is the world's preeminent academic research center focusing on the development and application of customer analytics methods. Through our innovative Research Opportunity program and R&D "crowdsourcing" approach, WCAI enables academic researchers from around the world to help companies understand how to better monetize the individual-level data they collect about customers through the development and application of new predictive models. We marry our work with companies and researchers around the world with a range of co-curricular student programs that foster talent development and recruitment.
About Two Six Capital
Founded in 2013, Two Six Capital is a technology-enabled advisory and investment firm that has pioneered Data Science for private equity. Two Six has served as an advisor and co-investor alongside many of the largest and most respected global private equity firms. The firm's approach to transaction due diligence and value creation post investment is backed by 25 years of IP and research in Data Science. The firm has analyzed over $119 billion in granular transaction-level revenue data and has been involved in over $27 billion worth of closed private equity transactions. To harness the power of Data Science, Two Six combines large-scale Engineering, Statistics, and Machine Learning capabilities to help investors unmask the intrinsic value of companies and identify new paths for growth. Two Six serves on the Advisory Board of the Wharton Customer Analytics Initiative.