FireSIDE Chat/Book Event - Twisting Fate: My Journey with BRCA - from Breast Cancer Doctor to Patient and Back
Wednesday, February 13, 2019
Intending to share the hope and incredible advances in research with the broader community,
Dr. Pamela Munster
describes her journey of developing the disease in which she is an expert in her new book,
Twisting Fate
. As a carrier of one of the most feared cancer mutations, she provides a glimpse into the medical and emotional turmoil of breast and other cancers related to the BRCA mutation. She takes the reader through the different stages of cancer, bringing to life the voices of patients, family members and friends living with this disease. With a unique view through both a professional and personal lens, she shows that knowing about a genetic mutation can change the lives of the entire family and spare future generations. More about Dr. Munster below.
Please join Dr. Munster and
Devi Ramanan
in this fireside chat/discussion about Dr. Munster's inspiring book.
Register Online
Date:
Wednesday February 13, 2019
Time:
6:00pm to 8:00pm

Location:
DocuSign,
221 Main Street
, Floor 15, San Francisco, CA 94104

Cost:
WCNC members: $20 per person. Non-members: $40 per person. Registration includes appetizers and beverages.
Registration will close on Tuesday, February 12th at 4pm.
New and renewing membership are available at
http://www.whartonclub.com/memsub.html
About the Speakers: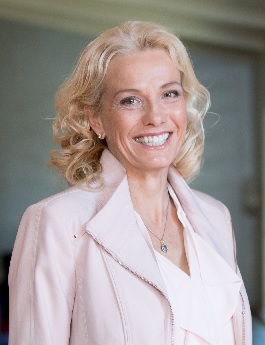 Dr. Pamela Munster
Dr. Munster is Professor in Residence at the University of California, San Francisco, where she is also the Director of Early Phase Clinical Trials Program at the Helen Diller Family Comprehensive Cancer Center and Program Leader of Experimental Therapeutics. Dr. Munster is Co-Director of the Center for BRCA Research, a BRCA-focused clinical and research program at the Helen Diller Family Comprehensive Cancer Center at UCSF.
Dr. Munster is the principle investigator of a research lab focused on developing novel targeted therapy for the treatment of treatment-resistant cancer and their integration into current treatment strategies. The lab involves basic research studies on epigenetic modification of DNA repair and therapy resistance. Her laboratory is involved in several projects testing HDAC inhibitors reverse hormone therapy resistance in breast cancer and to re-engage the immune defense. Over the recent years, her team has been developing new devices to selectively deliver anticancer agents to those at risk for cancer with the goal to prevent cancers in high-risk individuals.
She is the lead investigators on several clinical trials involving early drug development for cancer, serves on NIH/NCI study sections and leads international cancer awareness campaigns on breast cancer and cervical cancer. Dr. Munster has published in numerous scientific journals and has given lectures on early drug development, breast cancer, clinical trials, and translational research and is a strong advocate for patients with cancer germline mutations.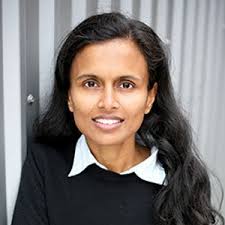 Devi Ramanan
Devi Ramanan has 20+ years of global experience leading technical Product Teams in the Technology (Accenture & Ayasdi), Healthcare (Genentech, Pac Bio, InVitae) and Financial Services (UBS) verticals, at large companies and start-ups alike. She is a technical, hands-on problem solver who ensures & empowers her teams to succeed. Also, Devi continues to be an advisor to start-ups in the Technology & Healthcare verticals in Product/Data Science/Sales/BD initiatives. She actively blogs at
https://medium.com/@devi_ramanan
&
https://www.ayasdi.com/blog/author/devi/