Customer Centricity Conference 2017
May 10th & 11th
http://customercentricityconference.com/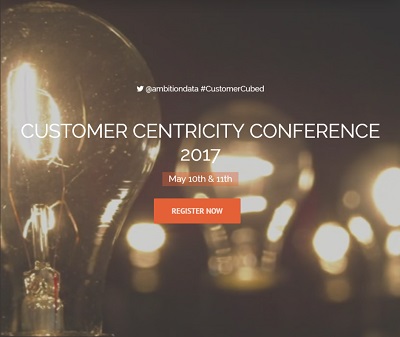 What is Customer Centricity?
Customer centricity is a widely misused term. If you are customer centric, then you can draw a straight line from marketing activity to ROI. If you are customer centric then you know who your good customers are and who your bad customers are. If you are customer centric then you know the individual value of every customer.
According to the Book of Fader, running a customer-centric organization is about tapping CRM data to identify and, in turn, get a 360-degree view of your most valuable customers – then using that info to enhance their customer experience, in addition to making as much money from them as possible over the long-run while finding more customers just like them.
What will I gain from this conference?
In this conference you will get to know the most powerful metric in marketing today, predictive customer lifetime value. You'll learn why this number is almost always wrong internally and how much money companies typically leave behind as a result.
It's time to set the record straight. Not only will we talk about what customer centricity really is and why it matters, but on the second day, you will get to play a robust, competitive, customer centricity simulation. We break you up into teams of five and you'll use what you learned on day 1 to compete and see who can drive the market value of a fictional company the highest.
This is a conference where you won't sit passively checking your email. This is a participation event. Learn how to grow real value in your companies. The conference is hosted by Ambition Data, a boutique consulting firm inspired by the clean KPIs and marketing revolution potential of customer centricity.
Join us for two intensive full days of world class speakers from leading companies, hands on cutting edge "Customer Centricity Simulation, small break out discussion groups and networking socials.
Register Online
Date:
May 10th and 11th, 2017
Time:
8:00am - 7:00pm
Location:
Wharton |
San Francisco
,
2 Harrison Street
, 6th Floor, San Francisco, CA 94105
Cost:
Super Early Bird, $1200/person until March 31st, after March 31st $1500/person. Ticket includes all-day access to the conference, beverages, breakfast, lunch, and afternoon snacks.
For more information, visit the
Customer Centricity
website.