---
9 innovation PRINCIPLES OF GOOGLE
Thursday, October 1, 2015
Ever wonder what drives innovation at Google? The company has grown exponentially from one product to multiple and various projects that push the boundaries of innovation at every turn. In 15 short years, Google has managed to touch the lives of billions of people around the world daily.
Gopi Kallayil takes us deep inside Google's innovation culture and reveals the nine principles that drive innovation and how those ideas can apply to other organizations. Join us for an insightful evening where participants will learn:
The nine rules any business, large or small can adopt to begin change
An in-depth look at thinking beyond traditional boundaries to begin exploration and implementation
Practical steps to adapt, tweak and evolve new ideas to strech your business' culture

Register Online
Date:
Thursday, October 1, 2015
Time:
6:00pm Networking; 7:00pm Talk
Location:
Wilson Sonsini Goodrich & Rosati,
650 Page Mill Road
, Palo Alto, CA 94304
Cost:
$20 for WCNC members. Non-member alumni and other guests: $40 per person, available September 15th, if space available.
Registrations after 4:00pm on Friday, September 25th are an extra $10 per ticket.
Cancellations after Friday, September 25th is at the discretion of the WCNC. No charge for Wharton Club Gold Ticket Members (but remember as always to register via the above 'Register Online' link).
Registration closes on Tuesday, September 29th at 8:00pm.
New membership is available at
http://www.whartonclub.com/memsub.html
.
About the Presenter: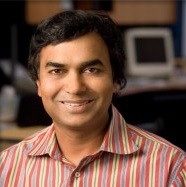 Chief Evangelist
Brand Marketing
Google
Gopi Kallayil is the Chief Evangelist, Brand Marketing at Google. He works with Google's sales teams and customers and helps grow customer brands through digital marketing. In his prior roles he worked as Chief Evangelist for Google+, led the marketing team for the Company's flagship advertising product, AdWords, in the Americas and Asia Pacific, and the marketing team for AdSense, Google's publisher-facing product.
Before joining Google, Gopi was on the management team of two Silicon Valley venture funded startups. While a consultant with McKinsey & Co., he worked on engagements helping the management teams of large corporations improve business performance and maximize revenues. He has also led large Information Technology projects for global corporations in India, China, and the US.
Gopi earned his Bachelors degree in electronics engineering from the National Institute of Technology in India. He received his Masters in Business Administration degrees from the Indian Institute of Management and The Wharton School of Business at the University of Pennsylvania. He is an avid yoga practitioner, triathlete, public speaker, global traveler and Burning Man devotee. He has spoken at TEDx, Renaissance Weekend, The World Peace Festival and Wisdom 2.0. He hosts a TV program on cable and YouTube called Change Makers.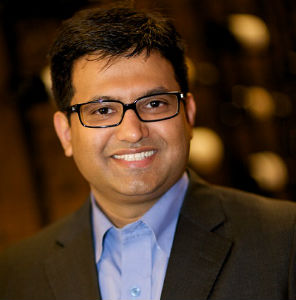 Hosted by:
Sanju Pancholi
, Entrepreneur, Start-up Advisor, Data Science, B2B Software