WHARTON SOCIAL IMPACT CONFERENCE IN SAN FRANCISCO

Thursday, April 10, 2014
http://www.whartonsfsocialimpact.com/
The Wharton Social Impact Initiative and students from Wharton|
San Francisco
are pleased to host the second annual student-run, Wharton |
San Francisco
Social Impact conference.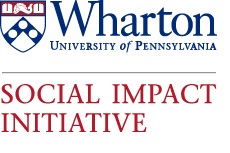 The purpose of the conference is to bring together a community of socially innovative thinkers who understand what is good for society is also good for business. Our aim is to inspire, educate, and connect the members of the Wharton and San Francisco/ Silicon Valley social impact community. We also hope to support these individuals and organizations in their quest to create sustainable solutions to enduring social problems.
Attend the conference for free when you encourage/persuade five or more people to register for the event. At the close of registration, each participant is asked to list the name of the person who told them about the conference or twisted their arm to join. If your name appears FIVE or more times we will refund your ticket in full on April 11th.
Be sure to join the community of attendees on
Facebook
. Click "
Like
" to confirm your attendance and invite your friends and colleagues to the conference! For the latest details and logistics, please visit
Social Impact Conference
. If you have questions, contact us
here
.
Register Online
Date:
Thursday, April 10, 2014
Time:
7:30am - 4:30pm
Location:
Wharton |
San Francisco
,
2 Harrison Street
, 6th Floor, San Francisco, CA 94105
Cost: $75 per person
. Don't hesitate! Register today.
All Sales are final.
Ticket includes all-day access to the conference, beverages, lunch and afternoon snacks.
Schedule:

7:30-8:25am: Check-in and light breakfast
8:30am – 8:40am Welcome
Douglas H. Collom, Vice Dean of Wharton in San Francisco
8:40am – 9:25am: Redefining Social Impact (First Keynote Speaker)
K. Robert Turner, Principal & CEO Turner Impact Capital LLC
9:30am – 10:20am: Profitable Purposes (Panel)
Ben Cain, VP Financial Strategy Revolution Foods
Meg Garlinghouse, Head of LinkedIn for Good
Matthew Pohlson, Co-Founder Omaze
Moderator: Zofia Wosinska, Wharton MBA '14
10:20am-10:40am: Break - Networking
10:45am-11:35am: The Art of Impact Investing (Panel)
Alexandra Levin, Director Citi Community Capital's Strategic Investments
Julia Sze, Managing Director Sonen Capital
Cynthia Ringo, Managing Partner of DBL Investors
Susie Lee, Principal Skoll Foundation
Moderator: Kristal Dehnad, Wharton MBA '14
11:40am-12:30pm: Innovative Philanthropy (Panel)
Aradhana Roy, Senior Consultant, Gates Foundation
Kohl Crecelius, CEO & Co-Founder Krochet Kids
Kriss Deigimeier, Chief Executive Officer Tides. Org
Stacy Walder, Program Director for the Laura Arrillaga-Andreessen Foundation
Moderator: Valerie Constable, Wharton MBA '14
12:30pm-1:30pm: Lunch by Revolution Foods + Networking + Performance by Little Kids Rock
1:35pm-2:15pm: Second Keynote
2:30pm-3:20pm: Breakout Panel Sessions 1A & 1B
SESSION 1 A: Rethinking and Transforming Education
Glenn Pierce, President, Turner-Agassi Charter School Facilities Fund
Julie Mikuta, Senior Director Education of the Charles & Lynn Schusterman Family Foundation
Gene Wade, Founder & CEO, University Now
Preston Smith, Co-Founder and CEO
Moderator: Aarthi Sowrirajan, Director, Turner Impact Capital
SESSION 1 B: Building Community Through Sustainable Housing and Urban Development
Gee Kim, Principal, Turner Impact Multifamily Housing Fund
David Zucker, CEO and Founder, Zocalo Community Development
Robin Zimbler, Senior Project Manager L+M Development Partners Inc.
Paul Sussman, CFO | Tenderloin Development Neighborhood Corp
Moderator: Angela Chen, Wharton MBA' 14
3:30pm-4:20pm:
Breakout Panel Sessions 2A & 2B

SESSION 2 A: Social Innovation and Healthcare
David Green, Founder Project Impact
Dr. Harvey Rubin, MD, PhD Energize the Chain
Andrew Rosenthal, Product Manger, Health Platform, Jawbone
Brooke Wurst, CEO Remote Harbor
Moderator: Anand Raghavan, Product Management/Marketing ThoughtSpot
SESSION 2 B: Social and Environmental Consciousness
Jeff Mendelsohn, Founder and Chair New Leaf Paper
Ibrahim Al-Husseini, Founder The Husseini Group
Marek Wosinski, Ph.D.
Moderator: Michael Thomsic, Wharton MBA '14
4:20-4:30pm: Closing Remarks