---
WHARTON M&A WEST 2013 – How to thrive in M&A and Leveraged Buyouts
Thursday, June 6, 2013
SOLD OUT!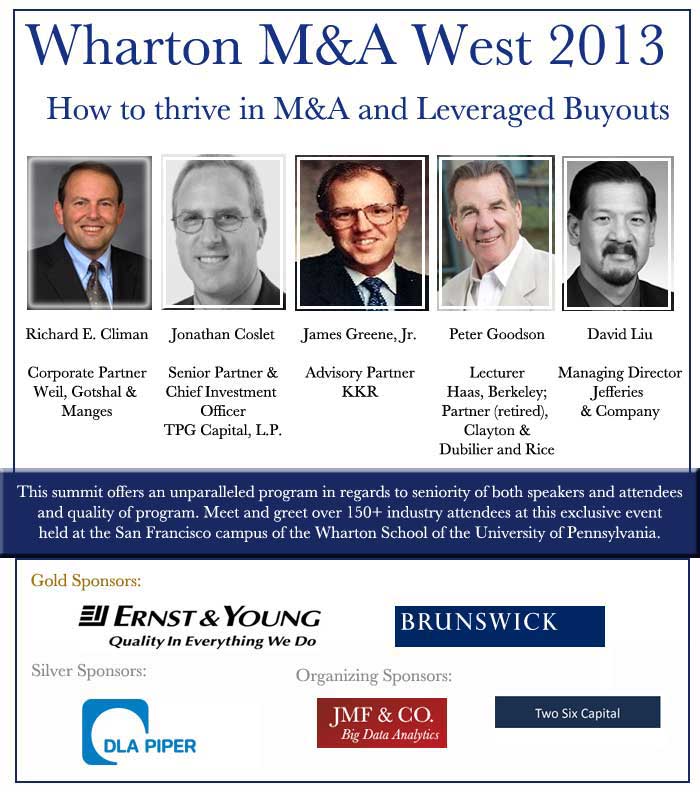 The Wharton Club of Northern California and Wharton San Francisco are proud to present the first annual M&A Summit at Wharton San Francisco. Come learn from an all-star group of M&A leaders who have driven more than $500B in M&A transactions and hear why all companies including venture backed early stage companies should now be paying attention to how M&A has transformed the liquidity landscape.
M&A drives the majority of liquidity for venture and non-venture backed companies, and Silicon Valley companies have never been in more demand. Learn from top M&A leaders as they discuss:
How corporate development with large cash positions are competing with Private Equity as they battle for the best businesses.
Where will the most deal flow and liquidity in 2013/2014 come from — IPO, M&A or Acqui-Hire.
How to position your business to best take advantage of these liquidity trends.

[SOLD OUT!]
Date:
Thursday, June 6, 2013
Time:
9:30am - 7:30pm
Location:
Wharton |
San Francisco
,
2 Harrison Street
, 6th Floor, San Francisco, CA 94105
Early Bird Pricing (prior to 3pm Friday, May 17th): $150 for WCNC members, Students and Members of Affiliate Clubs. $195 Wharton Alumni (Non-members) and Industry Attendees.
Regular Pricing: $175 for WCNC members, Students and Members of Affiliate Clubs. $220 for Non-member Wharton Alumni and Industy Attendees. WCNC Gold Member pricing: $150.
Cancellations after 3:00pm on Friday, May 31st at the discretion of the WCNC. Tickets available until June 3rd.
New membership is available at
http://www.whartonclub.com/memsub.html
.
Presented by: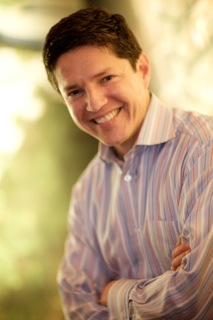 Michael Fernandez, W'91, Executive Producer, Co-Chair



Michael is the Founder of
JMF & Co
, a Big Data analytics firm. The team is composed of Ph.D.s in math, engineering, and informatics from MIT and Princeton as well as software engineering talent and analytic management consultants. Together they help clients effectively execute critical data science initiatives requiring analytic talent without committing to long-term fixed labor costs. Prior to JMF & Co, Michael was a Managing Director with a boutique mergers and acquisitions firm advising c-level executives of private companies with revenues up to $100 million on mergers and acquisitions. Michael holds a B.S.E from The Wharton School of the University of Pennsylvania and an M.P.A. from Harvard University.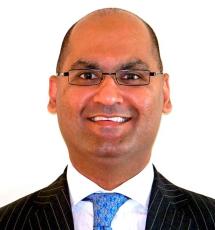 Sajjad Jaffer, WG 01, Co-Chair


Sajjad Jaffer's background spans private equity, consulting, and banking. He invested growth capital across technology, food and beverage, retail, commodities, and hospitality sectors for Siraj Capital in Dubai. Sajjad focused on customer operations, supply chain, and product innovation engagements at Infosys, creating over $10 billion in value in the high tech, manufacturing, and retail sectors. He also led global partnerships in the business intelligence space. Sajjad started his career at M&T Bank where he executed acquisitions of bank assets and divestitures of credit card portfolios worth over $1 billion. He holds a B.A. from Bowdoin College, M.B.A. from The Wharton School of the University of Pennsylvania, and was a White House Fellows finalist.
Philanthropy:
We support the pioneering medical researchers of NCIRE (www.ncire.org) developing new treatments for PTSD, Alzheimer's disease, Parkinson's disease, and Cancer for military Veterans.