Featuring Reece Hirsch, Partner MorganLewis, and Ramon Peypoch, EVP ProofPoint. Join the Wharton Club and Wharton Healthcare Alumni Association for a discussion about the implications of the 2009 HITECH Act and emerging trends in Healthcare IT.
---
The HITECH Act: Adapting to the Healthcare IT Landscape
Tuesday, November 3, 2009
Join the Wharton Club of Northern California,
Wharton Healthcare Alumni Association , and Morgan, Lewis & Bockius LLP

on November 3rd for a discussion about the implications of the 2009 HITECH Act and emerging trends in Healthcare IT. President Obama signed the Health Information Technology for Economic and Clinical Health (HITECH) Act in February, as part of the stimulus package. The HITECH Act is intended to encourage the adoption of electronic health records (EHRs) through incentive payments to physicians. The HITECH Act, along with increased pressure on health care systems to improve quality outcomes, has many implications for the role of IT in health care. Our featured guests will consider both the opportunities and challenges created by this changing Healthcare IT landscape.
This event is part of our health care and life sciences networking series. Given the growing possibility of major health care reform, enhancing our networks and keeping current on industry developments is more important than ever. To that end, we intend for these meetings to be informal, but with structured relationship building, information sharing, and networking activities. For this evening's event, Reece and Ramon will share their individual perspectives and seed a discussion, and we will then facilitate a discussion among participants. Space is limited so please sign up soon. Refreshments will be served and there will be time for informal networking at the beginning of the meeting.
A list of attendees will be provided to the group after the meeting. Attendees can provide their contact information at the meeting if they wish to be included in the list.
Register OnlineDate:
Tuesday, November 3, 2009
Time:
6:00-6:30PM Appetizers, drinks, and informal networking; 6:30-7:30 Discussion of HITECH Act and implications
Location:
Morgan, Lewis & Bockius LLP;
One Market Spear Street Tower
, San Francisco, CA 94105
Recommended parking: 75 Howard Street, Corner of Howard and Spear ($6.00 after 4PM and leave before 11PM)
Cost:
$20 WCNC and WHCAA Members. $30 for members of affiliate clubs (Penn Club, INSEAD.) Members only for this event. New membership is available at
http://www.whartonclub.com/memsub.html
. Ticket price includes appetizers and beverages. Registration will close at
2:00pm Tuesday, November 3
. Cancellations after 4:00pm Thursday, October 29th at the discretion of the WCNC.

Ramon Peypoch
Executive Vice President, Business Development, Proofpoint, Inc.
Ramon Peypoch joins Proofpoint after leading corporate strategy, M&A and strategic alliances as vice president of business development at Websense. During his tenure at Websense, Peypoch architected and implemented the strategy that led to the expansion of Websense's product line and geographic footprint via the key acquisitions of Surfcontrol PLC and Port Authority Technologies. Previously, he led business development activities for Symantec Corporation's endpoint security business. Prior to Symantec, Peypoch ran business development and strategic alliance efforts for Sygate Technologies, culminating in the October 2005 acquisition of the company by Symantec. In addition, Peypoch has held a variety of executive management roles at Trident Capital, Inktomi, AT&T Solutions, and GE Capital after starting his career at Andersen Consulting. Peypoch graduated with a BA from Hamilton College and holds an MBA from The Wharton School at the University of Pennsylvania.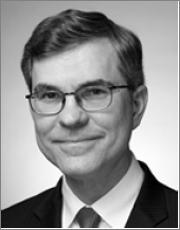 W. Reece Hirsch
Partner, Morgan Lewis
W. Reece Hirsch is a partner in Morgan Lewis's FDA/Healthcare Regulation Practice. Mr. Hirsch focuses his practice on healthcare law regulatory and transactional matters. He counsels and represents hospitals, health plans and insurers, physician organizations, healthcare information technology companies, pharmaceutical and biotech companies, and other healthcare organizations on transactional and regulatory matters, including Medicare, fraud and abuse, self-referral, and privacy issues. Mr. Hirsch has specific knowledge in data privacy and security issues that apply to the healthcare industry, including compliance with the Health Insurance Portability and Accountability Act (HIPAA) and the Gramm-Leach-Bliley Act. He has advised clients from virtually all sectors of the healthcare industry on privacy and security compliance matters, including assisting them in developing policies and procedures, structuring healthcare information technology ventures, and responding to security breaches.
Mr. Hirsch has served as lead transaction counsel on sales and acquisitions of hospitals, medical groups, clinics, and a variety of other healthcare organizations, and he has advised clients on the regulatory implications of joint venture arrangements. He advises clients on corporate matters relating to the formation and ongoing representation of independent practice associations, medical groups, management services organizations, integrated delivery systems, and healthcare technology companies.
Mr. Hirsch writes a blog on healthcare privacy and security issues for Healthcare Informatics magazine at http://www.healthcare-informatics.com/. He also serves on the editorial advisory board for BNA's Health Law Reporter, Healthcare Informatics, and Briefings on HIPAA publications.