From Afghanistan to Silicon Valley: Mobile Financial Services for the Next Billion Customers
Mobile Financial Services is one of the hottest industries globally today. Join us for a panel discussion that will answer key questions around providing mobile financial services including the opportunities and challenges in this area.
---
From Afghanistan to Silicon Valley: Mobile Financial Services for the Next Billion Customers
Thursday, September 3, 2009
Mobile Financial Services is one of the hottest industries globally today. The advent of electronic money movement, coupled with the ubiquity of mobile handsets in the market promises convergence of two industries which may lead to a transformation in the financial services space. This industry is attracting professionals from divergent industries… from technology to wireless and handset providers to microfinance, alternative payments and banking professionals. Some experts claim that the intersection of mobile and finance has already, and will continue to, transform people's lives, change the way business is conducted, and significantly impact GDP growth on a global scale. The industry is nascent, offering the opportunity for new innovations. It is also complex, providing challenges around consumer adoption, ecosystem relationships, and business models.
The goals of our Mobile Financial Services series are threefold:
To provide an overview of this market to Wharton and Harvard alumni as well as other Bay Area professionals interested in learning about this industry;

To bridge the gap between the innovations occurring abroad and Silicon Valley; and
To provide a opportunity for networking and future innovation in this area.
Key questions to be addressed include:
What are "Mobile Financial Services" and what are the key trends driving this industry?
Why should we care about this industry?
Is this industry additive or transformational? What customer segments does it support? What are the value propositions for these segments?
Who are the main constituents in the value chain? What are the value propositions for each? What models are emerging?
What are the most important initiatives underway today and how developed is this industry?
What are the opportunities and challenges in this area?
From the perspective of investors, what will predict success in serving the base of the pyramid?
What are the challenges in consumer adoption of this emerging technology?
What does experience to date tell us (and not) about how far we can go with mobile financial services?
What's next?
Kickoff:
The Wharton and HBS Tech Clubs will co-host a series in the Bay Area regarding Mobile Financial Services. The first of this series will be held on September 3rd and will have 2 sections to the event. First, the moderator will present an overview of what Mobile Financial Services is, the major trends, why it matters, who the constituents are, and will set up the rest of the discussion to focus on addressing the unbanked customer segment. Second, the panel will address key questions around providing mobile financial services for the unbanked world-wide including the opportunities and challenges in this area.
Join us and HBS Tech Alumni for an invigorating panel discussion - an exclusive gathering of leading executives from the mobile financial services industry.

Register Online
Date: Thursday, September 3, 2009
Time: 6:00pm-7:00pm Networking Reception & Registration. 7:00pm-9:00pm Program
Location: Wharton West, 101 Howard St., San Francisco, CA
Cost: WCNC members, members of affiliate clubs and their accompanied guests: $20 per person. Non-member alumni and other guests: $40 per person. Registrations after 4:00pm Tuesday, September 1st an extra $10 per ticket, if available. Cancellations after 4:00pm Tuesday, September 1st at the discretion of the WCNC. No charge for Wharton Club Gold Ticket Members (but remember as always to register via the above 'Register Online' link.) Pre-registration is required to be on the list for the security desk at Wharton West. Thus, walk-ins cannot be accepted.



Monica Brand, Principal Director Frontier Investments, ACCION International. Monica Brand has spent her career in the financial services and social enterprise sectors, expanding and enhancing the value offered to the majority. Ms. Brand currently manages Frontier Investments, whose mandate is to invest in early stage companies with disruptive business models that catalyze breakthrough innovation in financial inclusion. Prior to assuming responsibility for managing this fund, Ms. Brand launched and ran ACCION's Marketing & Product Development Unit, where she oversaw the creation of new financial services to move the industry beyond microcredit.

Ms. Brand's professional experience also includes training and teaching at all levels, including working with female entrepreneurs at the Women's Initiative for Self-Employment (WISE) as a trainer and 2nd year MBAs at Harvard Business School as a case-writer. Ms Brand currently serves as an Adjunct Professor at the John Hopkins School of Advanced International Studies (SAIS) of a masters-level course on impact investing.

Ms. Brand received both a M.B.A. and a master's of education from Stanford University and her Bachelors of Arts degree in Economics from Williams College, where she graduated with honors. Ms Brand serves on numerous boards including Compartamos Bank in Mexico, Paralife Holdings (a Swiss micro-insurance company), MicroFinance Currency Risk (MFX) Solutions (currency hedging and other risk management instruments for MFIs) and the DC Employment Justice Center. Monica is half-Peruvian and lives with her husband and twin children in Washington DC.



Camille Busette, PhD, Vice President, EARN and former Deputy Director Government Relations, PayPal. Camille M. Busette joined EARN as its Vice President in January 2009. In addition to her general leadership role there, she also leads EARN's policy and research functions. Prior to joining EARN, Camille served as the Deputy Director of Government Relations for PayPal, where she managed PayPal's financial services legislative and regulatory advocacy efforts for the Americas and anti-money laundering regulatory efforts globally. In addition to U.S. state and Federal legislative advocacy, in this role, she worked closely with international central banks and regulators, and U.S. Federal regulators on financial services, payments, and economic inclusion issues. Before her tenure at PayPal, she headed the consumer privacy function at Intuit, and prior to that, the consumer and market research division at NextCard.

Camille is a former Ford Foundation Post-doctoral Research Fellow, and holds a PhD in Political Science from the University of Chicago.



Aiaze Mitha, CEO, Amarante Consulting. Aiaze Mitha is a recognized international expert in mobile financial services and is the founder of Amarante Consulting, an independent consultancy specialized in mobile financial services in developing markets. Aiaze combines significant implementation experience with hands-on involvement in over 15 projects across Africa, Asia, the Middle East & Central America. He has spent the last years supporting Mobile Operators, Microfinance Institutions, International Banks and Regulators in every aspect of their mobile money projects, providing strategic guidance, regulatory advice, technology expertise and implementation support.

Previously Aiaze directed M-Paisa for Roshan, the leading mobile operator in Afghanistan. Prior to Roshan, Aiaze was Consulting Director with Devoteam Middle East, with a focus on the Telecom Industry and Financial Sector.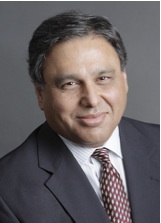 Naeem Zafar is a member of the faculty of Haas Business School at the University of California Berkeley, where he teaches Entrepreneurship and Innovation as part of the MBA program. Naeem did six startups and has extensive experience in mentoring and coaching entrepreneurs. He founded Concordia Ventures, a company focused on educating and advising entrepreneurs on all aspects of starting and running a business.
Naeem has been a proponent of mobile payment systems and services for the unbanked population in emerging economies. His has been a Board advisor to Amaana, the leading mobile payment system using SMS in Pakistan and Rural Asia, that provides financial services to unbanked in rural Pakistan.
Naeem was the president and CEO of Pyxis Technology until 2007. He has also been president and CEO of Silicon Design Systems and Veridicom, a Bell Labs spin-off that invented the silicon fingerprint sensors. Naeem has held senior marketing and engineering positions at several companies, including Quickturn which had an IPO.
Naeem obtained a Bachelor of Science degree in electrical engineering from Brown University (magna cum laude), and a MSEE from the University of Minnesota. Naeem is a charter member of TiE.
Menekse Gencer (Moderator)
, CEO mPay Connect, A Mobile Payments Consulting Firm Menekse Gencer began her career consulting to mobile network operators in Europe and later worked with high tech companies in Silicon Valley, followed by global financial institutions. With the convergence of these three industries for Mobile Financial Services, Menekse is able to draw on her sixteen years of experience to provide unique perspectives around this complex ecosystem.
She has focused exclusively on the mobile financial services industry since 2005. Her clients have included banks, alternative payments companies, mobile network operators, technology companies, and NGOs. She led PayPal's mobile business development group for two years during which time she secured PayPal's first mobile network operator deal and launched the "send money" service on Sprint's mobile wallet. As a consultant to their Joint Venture, she assisted Citigroup in the development of its mobile payments blueprint for its global Fortune 500 business customers and provided strategic input around mobile payments to SKTelecom Americas corporate development.
Her most recent area of focus is serving unbanked and under-banked consumers with mobile financial services. To that end, she developed the mobile financial services product strategy and roadmap for a prepaid mobile network operator in the United States whose customers are predominantly unbanked and created the mobile banking plan for EARN, a non-profit seeking to break the cycle of poverty by matching savings of low-wage workers and helping them invest in assets that build wealth.
Menekse has an MBA from Wharton and a BA from Harvard University with expertise in high tech, wireless, and financial services industries and was previously featured on the cover of Fortune Small Business Magazine. She is also a board member of Mobile Money Africa.